Overview
The Page Width allows the content in the editor to be displayed restricted to the specified page width for common devices.
Selecting the Page Width to display
There are 2 basic methods for selecting the Page Width to display content in EditLive!:
The toolbar and menu items described below may not appear in your instance of EditLive!. This would be due to your Systems Administrator removing this functionality. For more information, see your Systems Administrator.
Toolbar Button
 The EditLive! toolbar provides the following button for selecting Page Widths:
Menu Item
The 

 Page Width item is located under the View menu.
Choosing Page Width
Both Toolbar button and Menu item display a drop down menu of common display widths for Smartphone, Tablet and Monitor as well as Sizing to fit the editor and a Custom width.
Preset Sizes
Choosing Smartphone Landscape will display the editor content, restricted to 480 pixels, the width of a Smartphone in Landscape.
Size to Fit
Choosing Size to Fit displays the content of the editor at the width of the editor on the screen.
Custom Width
To display the editor content for a custom width, choose Custom... from the Page Width drop down. A dialog is displayed to enter a custom width in pixels.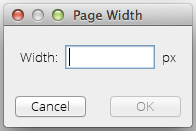 Attachments:

Set_Page_Width-16.png
(image/png)

pageWidth_options.png
(image/png)

pageWidth_customWidthDialog.png
(image/png)

pageWidth_smartphone.png
(image/png)